All White Patina Makeover Suggestions
Kelly-Ann writes:

"I want to change my lounge to all white. But I want it to look old and interesting. Not modern and minimalist. I love this work by one of your students. Any ideas for redoing a room on a budget in this look!"

---
DIAGNOSIS
INSPIRATION
This is the finish that Kelly-Ann likes. It was created by Marcela.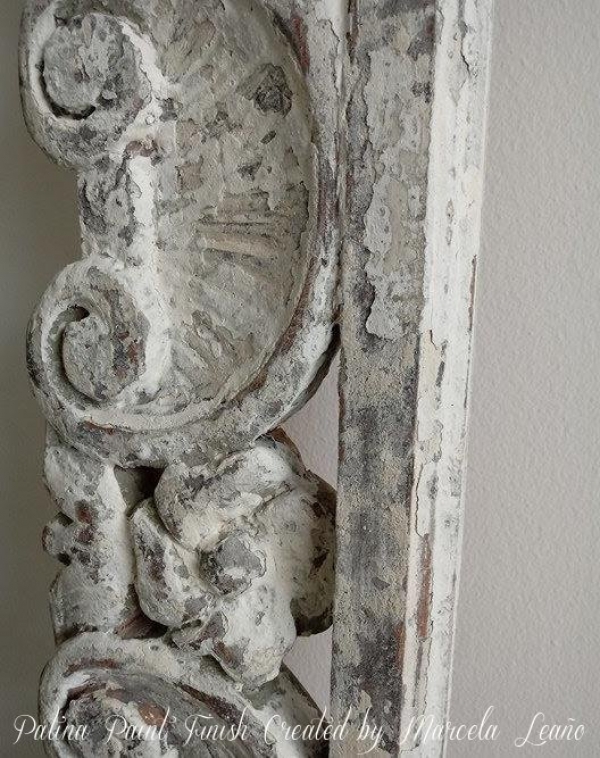 BEFORE
This is what the lounge looks like now.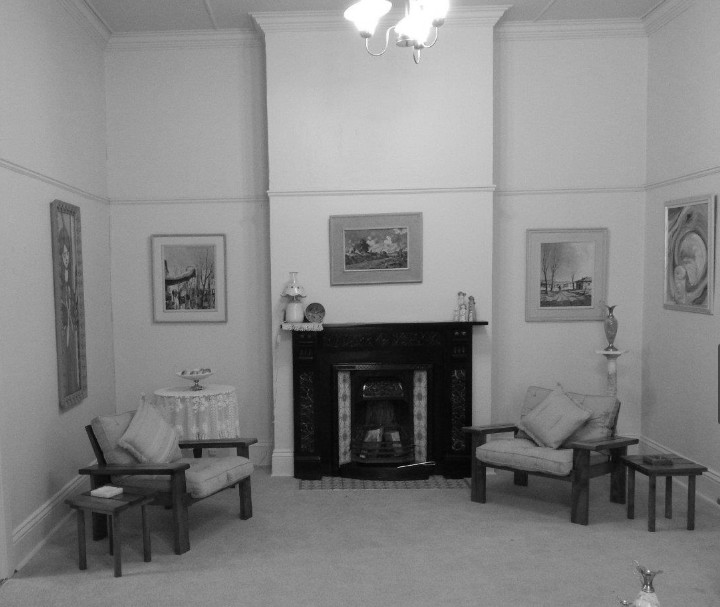 ---
THE CURE
Ideally, I need a little bit more information. But I will give you a few ideas working with what I have.
ROOM PROPORTIONS
The ceilings are very high. It looks almost as if the room is a cube. Unfortunately, the wall is broken with a picture rail. Now, this is just my personal taste, but I would remove the picture rail and place it well labelled and securely in the attic for future generations to reinstall. For me, a picture rail like this has no purpose. In fact, I would take whatever goes on the wall right up to the ceiling. High ceilings are fantastic to have – so why not emphasise the space and use it? For instance, what about 2 shelving units flanking the fireplace? You can use this for your collections. When it comes to art, make a gallery and hang pictures from floor to ceiling.
LIGHTING
I would remove the centred pendant and rather use standing lamps or alternative light sources to give you a more studio feel rather than a traditional sitting room.
FURNITURE FINISH
In the above finish, Marcela used recipes and techniques of finishes sample board F139 and tweaked the technique a little to get the result. She reversed the sequence in which to apply the colours and opted for a more crusty finish than the smooth finish on the sample board. Using the correct paint is key to achieving this look as it needs to distress easily and then be preserved in that state.

COLOURS
Whites don't have to be perfectly white. Old white paint is never a brilliant white as it would have discoloured with time. Opt for a layered effect in very light shades of grey and ivory for a less stark result. Add little touches of darker greys and natural wood or tarnished gold in the form of smaller decor objects and picture frames. Found objects from nature like beautiful rocks, feathers and shells can add extra texture to your scheme.
WALLS
Walls should be in a matt, chalky looking finish. The wall should look crisp and clean like an art gallery.
ART
A really cheap way to create an almost instant art-house look in this room would be to paint old frames black. This would pick up and balance the black fireplace giving the room structure. You can fill the frames with photocopies of etchings, drawings and pressed flowers.
FLOORS
Judging from the age of this house, it probably has wooden floors underneath the carpet. If the floor is still in a good condition, it may only need a good polish. If not, sand it down and stain it grey or white. A yellow pine colour will kill your white look, so do not be tempted to just varnish the floor.
ALTERNATIVE DESIGN
If you are tempted to enhance the architectural features of this room, you will find great ideas by studying the designs of Charles Rennie Mackintosh. One solution would be to create geometric patterns on the walls and ceiling using cheap beadings.  In this Arts and Crafts shell, you can now add art and object collections along with unique pieces of furniture.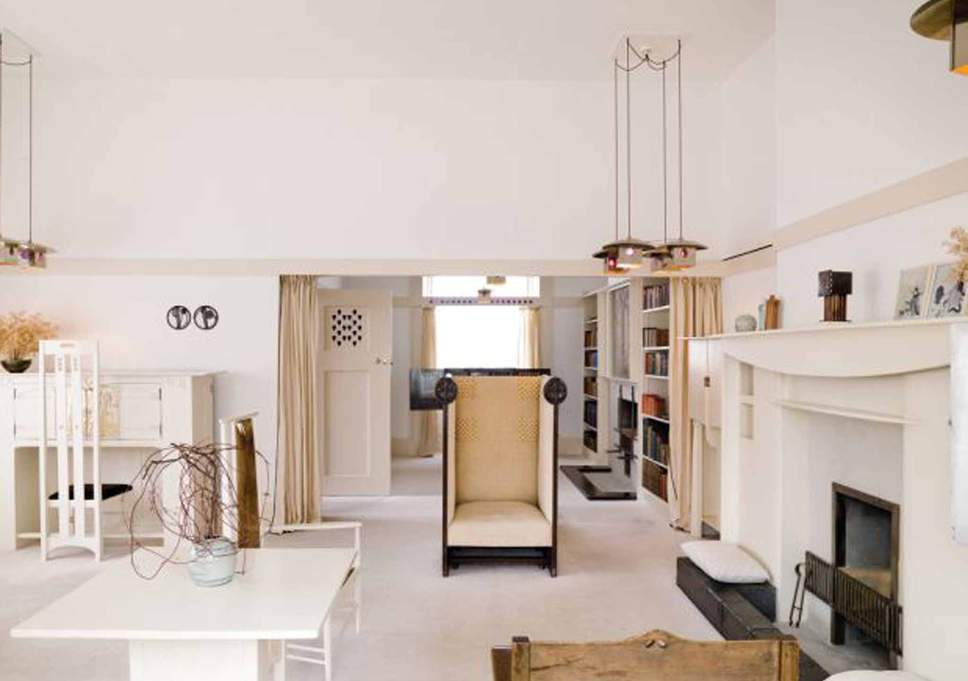 My suggestion here is not to recreate a Mackintosh room, but to "move into" a Mackintosh room with your own stuff and make it your own.