How to paint a bathroom cabinet.
Evangaline writes:

"I have a cupboard I want to use in a bathroom and I want it to look like this. Can you tell me how to get this look? "

---
DIAGNOSIS
INSPIRATION
This is what the cupboard should look like.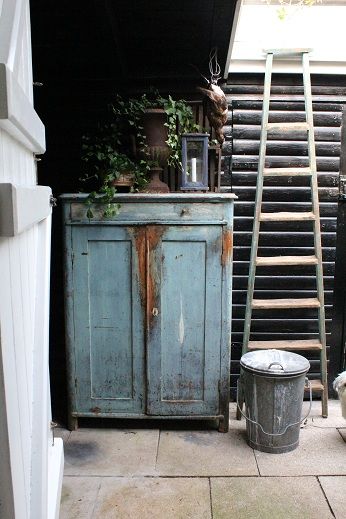 BEFORE
Primitive 2-door 2-drawer cupboard.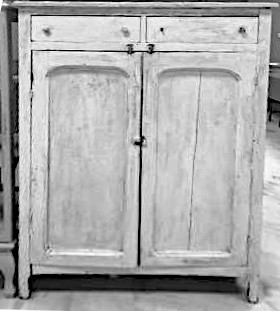 ---
The Cure
This is going to look fantastic. All you need to do is analyse the Inspiration cupboard and your own very closely. Then you combine the patina of both.
THE CUPBOARD
Your cupboard is beautiful with very elegant lines and already has some quirky characteristics that you should accentuate.
Do you see the crack on the door? Make sure you do not fill that with paint. You want it to look exactly like it does now.
Do you see the bottom left leg shows a gap? Do not fix it. Keep it looking "broken".
Those 2 little latches that keep the door closed – beautiful. Don't paint them.
There is one drawer knob missing. Try and carve one out of wood to match if you cannot find one that matches in shape.
TIP: Handmade amateur fixing solutions is a great way to add character to furniture.
CUPBOARD PAINT FINISH
Study the inspiration cupboard. Here are a few things to look out for:
Do you see where the most wear-and-tear is? Do you see that the wood is completely exposed at the top of the two doors? Also, only on the right-hand side and not on the left-hand side.  Why do you think that is? How were these marks made?
Do you see that the drawer shows more white than the bottom? Do you see the white mark on the right-hand side?
Do you see that the bottoms of the doors show tiny dark marks that you do not see on the top half?
TIP: A real antique hardly ever shows uniform ageing. Using a "formula" of scraping all the corners to expose a different colour will always look fake.
I would suggest you do a combination of these two finishes. The colours of the first sample (F128) match well and it also shows about the same amount of exposed wood.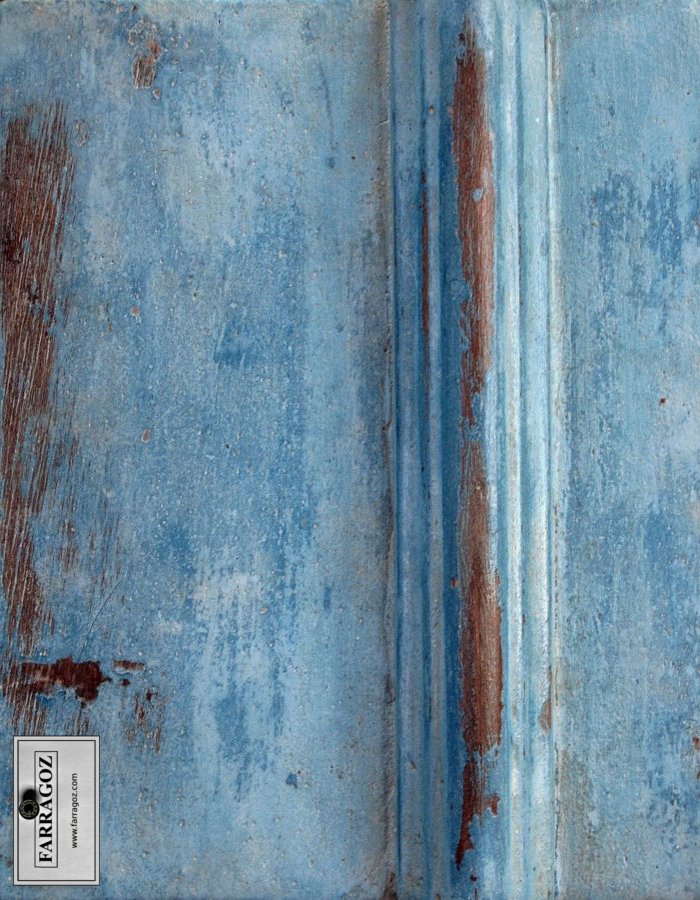 Following the technique used in the second sample board (F126) will help you achieve the result of having an extra white layer exposed in only a specific section.

INSIDE OF CUPBOARD
You want to use this in a bathroom. That means clean towels on old wood which is not so desirable. I don't know what it looks like now, but let's say it is bare wood. In that case, it probably has a beautiful patina that you do not want to destroy but you also don't want to put your towels on it. One solution would be to clean it well with soap and water like it would have been done 100 years ago. Then seal it with a thin coat. This way you remove the dirt without destroying the patina completely. It's a compromise one can live with.
TIP: All pieces of furniture are different. There is no "one" solution. You have to find a multiple custom solution for every single piece you paint or restore. That is what will make your work authentic, exciting and unique.