How to reproduce an antique painted secretaire
Michael writes:

"I want to ask a carpenter to make a cupboard like this for me and then I want to paint it. I cannot find anything remotely like this in my budget. Can you help me with the finish and the colours? Do you think it will be very difficult to make the gable? Should I copy the feet too or can I use bun feet?"

---
DIAGNOSIS
INSPIRATION
This is what the cupboard should look like.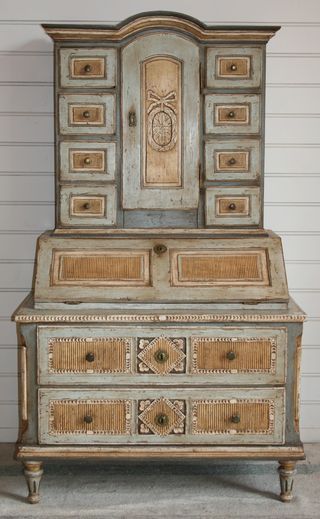 ---
The Cure
CONSTRUCTING THE CUPBOARD
Finding and asking a professional cabinet maker to reproduce a cabinet like this will be very expensive. But there is a cheap way around this. All you need to do is break the job up into parts and give them to different people to do. Don't show them the picture, show them a plan of the part you want them to make. That way they will not overcharge you.
The process could go something like this:
Draw plans of the cabinet.
Source the wood. Try and find wood you can recycle. You could even source whole pieces of furniture to incorporate. For instance, look at the bottom 2-drawer part – perhaps you can find a chest of drawers that will fit? What about converting a 3-drawer into a 2-drawer. For the top, you could look for the small drawers and then build the carcass around it. Always keep interesting pieces of moulding that can come in handy doing a job like this. Do you see where I am going with this? You are constantly changing your plan in #1, but that is fine because you will end up a unique version of this cabinet rather than an exact copy. If you cannot find all the pieces in old wood, use new plywood and paint it.
So now that you have a few parts of the cabinet already, you can start outsourcing the bits you cannot do. For instance, give a carpenter a very specific task, like "build a shell around this door and always supply the wood yourself. That way you only pay for the labour and not sourcing of the material. For new wood, make paper templates of the pieces to ensure that they are correct (paper is cheaper than wood), and take them to your lumber supplier to have it cut to size. For the legs, try and find "off the shelf" similar legs – if you can't have them made up. Lastly, something like the gable is not difficult to make with a router and the ceiling itself from thin bent plywood.
CARVING THE DETAILS
This is the fun part that you may not want to subcontract. Why, because carving like this is not difficult. The only challenge I see is maybe the bow in the top middle and for that, you could always apply an ornament rather than carve. The rest is very primitive and geometric. And if yours is not perfect, that is great because "mistakes" will only add character to the piece.
Here is an example of similar carving that is very easy to do.

THE PAINT FINISH
By all means, do not use modern paint after going to all this trouble. In that case, just leave it unpainted. With modern paint, you will end up with something that looks like it was manufactured in a factory yesterday. And if you are fine with that, save yourself some time and go to Ikea.
I suggest this finish as a general guide. However, it only has 2 colours. By adding 2 extra colours, you will get a similar effect. The amount of patina is about the same.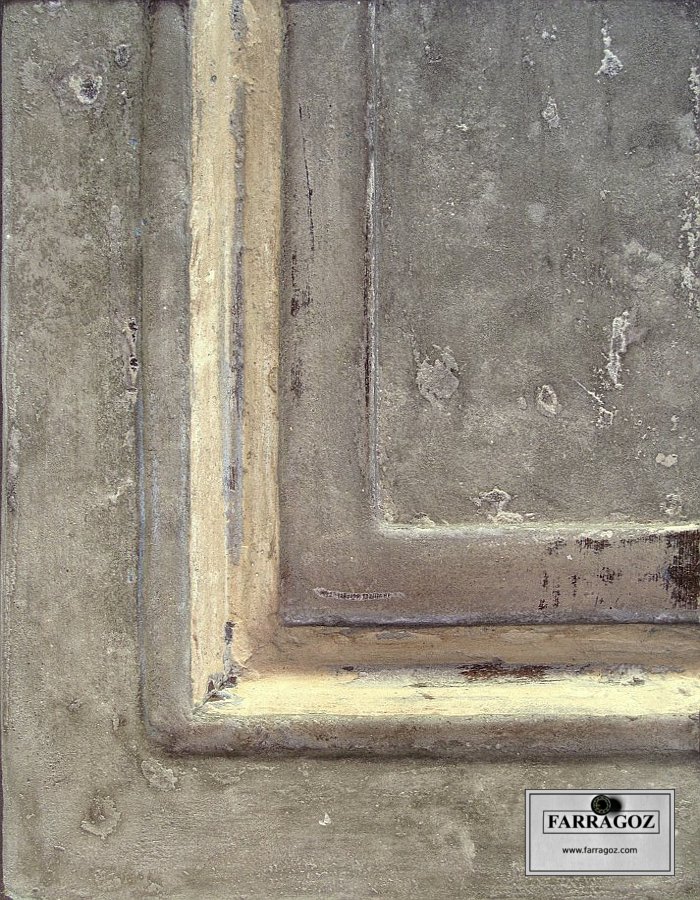 This method of reproduction is, in my view, the highest form of "upcycled" furniture. You are not merely "slapping on" paint, you are making something truly unique from parts that have very little intrinsic value themselves. But by setting a very specific goal, in this case, your inspiration cabinet, you end up with furniture that is similar to what you will find in a museum. And it does not matter that is was made in 2018 and not 1718. In fact, write your own story and paste it on the back. In 200 years, someone will read it and find it very interesting. Making furniture that will not end up in a landfill is a great achievement.